Webtron has the Best Livestream Auction Software on the Market!
With a history of 15 years in the live stream auction software business. We can assist you in reaching more online bidders thanks to our experience and knowledge.
We have a system with everything you could possibly need. Everything is ready to operate from your website and is simply bundled. In addition, to live streaming your auctions, you will be able to accept bids through an integrated bidding platform. Seeing is believing!
You can webcast auctions in real-time HD audio and video using live-streaming auction software for auctioneers.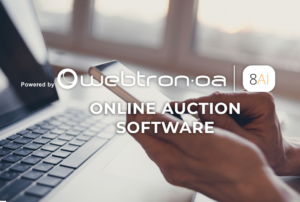 Auctioneers find our live stream auction software delivers the following features:
✔︎ Live streaming capabilities:
The software should offer live video and audio streaming, allowing bidders to participate in real-time.
✔︎ Interactive bidding:
The software should have interactive bidding features that allow bidders to place bids and see the current high bid.
✔︎ User-friendly interface:
The software should be easy to use, both for the auctioneer and the bidders. It should have a simple and intuitive interface that makes it easy to navigate and bid on items.
✔︎ Customization options:
The software should offer customization options that allow auctioneers to brand the platform with their own logo and colours.
✔︎ Real-time reporting:
The software should provide real-time reporting on the status of the auction, including the number of bidders, bids, and high bids.
✔︎ Invoice processing:
The software should offer secure payment processing options that allow bidders to pay for their items easily and securely.
✔︎ Technical support:
The software should offer technical support to ensure that the auction runs smoothly and any issues are resolved quickly.
We provide live stream auction software that is reliable, user-friendly, and provides a seamless experience for both auctioneers and bidders.
Our live stream auction software platform features that come as standard are:
✔︎ Auction and Bidder management portal
✔︎ Fast Bulk image, Lot upload & Auction setup
✔︎ Add as many pictures, PDF's and videos per lot as you like
✔︎ HD auction streaming to desktops, tablets and mobiles App-Free. Works from your website.
✔︎ Pre-bidding before and during the auction
✔︎ Real-Timed video and audio streaming
✔︎ Related items
✔︎ Bidders can quickly search and smart filter lots by keyword or category
✔︎ Run as many concurrent webcast auctions
✔︎ Built-in optional invoicing
✔︎ Highly scalable solution and robust infrastructure
✔︎ Easy to use, stylish and intuitive bidder interface
✔︎ Plus you can also run timed auctions, all within the one platform
✔︎ White Label and runs from your website
✔︎ Ongoing auction admin support
Live Stream Auction Software for your business
🎥 Live Webcast Auctions
⏳ Timed Online Auctions
📈 Marketplace
👩‍💻 Remote Clerking option
✅ Everything you need & will run from your own website
🏷 White Label Auction Software – 'value protect your bidders & IP' ( Not a group site
)
So modern works on all devices without frustrating bidders to download apps
🧑‍💻 Includes Setup, Training & Local Ongoing Support
🧾 Auction invoicing & reporting
🖥 Websites & marketing
😊 Simple for bidders and powerful for auctioneers
So ready to get started?
The New Webtron 8AI LiveStream Auction Software has arrived
Are you a livestream auctioneer looking to enhance your online auction business? Look no further than Webtron's newest release, version 8AI. Our white-label auction solution runs directly from your own website, providing a seamless experience for bidders and auctioneers alike.
Webtron 8AI uses artificial intelligence provide powerful features that make it easy for you to manage and customize your auctions. From live streaming and real-time bidding to automated notifications and in-depth reporting, our software is designed to meet the needs of modern auctioneers.
Best of all, our solution is easy to use and fully customizable to match your branding and style. With Webtron you can take your online auctions to the next level and provide your bidders with an unmatched experience.
Ready to see what Webtron 8AI can do for your business? Contact us today to schedule a demo and see our software in action.
FAQS
What is livestream auction software?
Livestream auction software is a type of software that enables auctioneers to stream their auctions live over the internet, allowing bidders from around the world to participate in real-time bidding. This software typically includes features such as online bidding, real-time bidding updates, and the ability to showcase auction items through live video streaming.

Livestream auction software can be used for a variety of auction types, including art auctions, antique auctions, livestock auctions and automotive auctions.
Overall, livestream auction software provides an effective way for auctioneers to expand their audience and reach a wider pool of potential bidders.
What are the benefits of using livestream auction software for auctioneers?
There are several benefits of using livestream auction software for auctioneers, including:

1. Increased reach: By live streaming auctions online, auctioneers can reach a wider audience beyond the physical attendees, increasing the number of bidders and potential buyers.

2. Convenience: Bidders can participate in auctions from the comfort of their homes or offices, without having to travel to the auction location, which can save time and money for both the bidders and the auctioneers.

3. Real-time bidding: Livestream auction software provides a real-time bidding platform that allows bidders to bid on items in real-time, similar to in-person auctions, which can create a more engaging and exciting bidding experience.

4. Time and cost savings: Livestream auction software can save auctioneers time and money by reducing the need for physical setup and staffing, and by automating the bidding and payment process.

5. Analytics and reporting: Livestream auction software typically provides auctioneers with detailed analytics and reporting on bidder behavior, such as bidding history, bidding patterns, and item popularity, which can help them make data-driven decisions to improve their auctions.

6. Flexibility: Livestream auction software offers auctioneers the flexibility to conduct auctions from any location, at any time, which can help them to better manage their schedules and accommodate bidders from different time zones.

Overall, livestream auction software can help auctioneers to conduct more efficient, engaging, and profitable auctions, while providing bidders with a convenient and interactive platform to participate in live auctions.
Can bidders participate in a live stream auction from anywhere in the world?
Yes, bidders can participate in a livestream auction from anywhere in the world as long as they have an internet connection and access to the auction website. The livestream auction software enables bidders to view the auction in real-time and place bids on items as if they were physically present at the auction. This opens up the auction to a larger pool of potential bidders, which can result in higher bids and better overall auction results.
Is livestream auction software easy to use for auctioneers?
Webtron livestream auction software strives to create user-friendly interfaces and provide training and support to help auctioneers successfully navigate the software. Additionally, once auctioneers become familiar with the software, they can benefit from features such as real-time bidding and analytics that can enhance their auctioning process.